Wildwood Crest Beach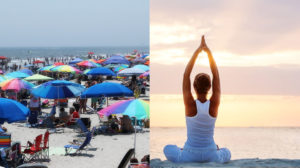 Just a few steps from our resort, the Wildwoods beach is the cleanest and largest on the east coast. With it's miles of white sands, there's plenty of room for everyone to spread out and relax. Or beat the crowds and get back in touch with nature with one of our pre- or post-season specials.
Wildwoods Boardwalk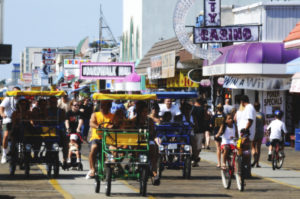 The Wildwoods Boardwalk (known to many as "America's Boardwalk") is world-famous for it's sprawling stores, carnival-style games, amusement piers and water parks. It needs to be experienced to be appreciated. Just a few blocks from our resort, the Wildwoods Boardwalk is a short walk or quick trolley ride away.
Morey's Piers & Waterparks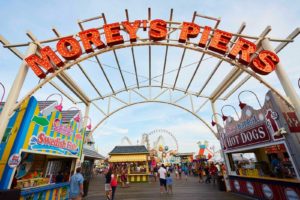 The Morey's 3 amusement piers and 2 water parks offer enough fun and excitement to fill up a family vacation all on their own! Strewn throughout the Wildwoods Boardwalk, the piers offer extreme rides, classic rides, kiddie rides, games of chance and skill, and some serious water slides for kids and adults.
The Wildwoods Convention Center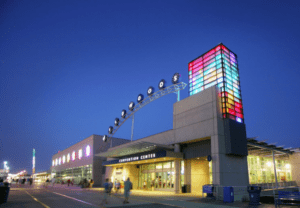 If there is an event in town, it's being hosted at the Wildwoods Convention Center. Designed in the classic Doo Wop style that Wildwood Crest has become famous for, the Convention Center plays host to a myriad of events, all year long. The Center is less than a mile away, and is accessible by foot, bike, trolley or automobile (there's ample parking available).
Restaurants, Eateries, and Bars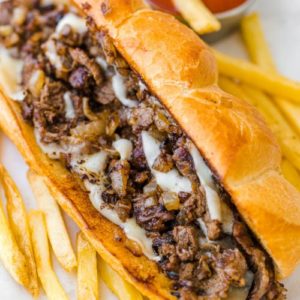 Perhaps we're biased, but we think Wildwood outshines even Philly when it comes to cheese steaks (yes, we said it). And pizza?  Forgetaboutit!
Whether it's cheese steaks or New York Strip steaks, our little island has some of the best eateries around. While there are far too many to list, here are some of our favorites in walking distance or a short drive:
Activities
Free concerts, bowling, sightseeing trips, scooter rentals, bike rentals, Lazy Eye Distillery, Historical Museum, helicopter rides, movie night, events.
North Wildwood Bar District